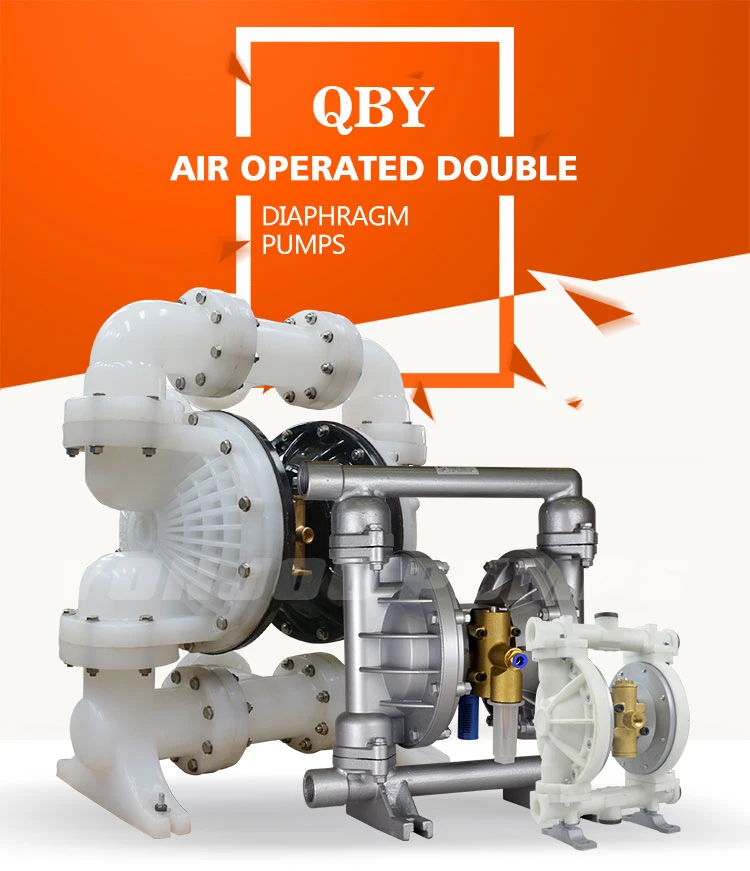 Summarize:

1.QBY Air Operated (Pneumatic) Double Diaphragm Pump is a positive displacement pump, adopting compress air, smoke and industry exhaust gas as power source.
2. It has two diaphragms, the compressed air come to the pump body to drive the pump in the constant action of sucking and releasing, so it can pump the liquids easily by this principle. Also it is very safe in dangerous environment since it has no electric motor.
3. QBY air operated double diaphragm pumps can not only transfer the flow liquid, but also can transfer some uneasy flowed medium, with the merits of self-priming pump, diving pump, shield pump, slurry pump and impurity pump etc.
Product details:
| | |
| --- | --- |
| Working Principle: | Double Diaphragms, Pneumatic |
| Main applications: | Oil, Water, Chemical, etc. |
| Driver: | Air Operated |
| Max.permissible fluid temperature: | 150°C(302°F) |
| Type of connection: | Flange, Thread, Quick coupled |
| Installation position: | Connect to compressor |
| Casing parts material: | C.I, S.S, PP, Aluminium, PVDF, PTFE linning |
| Maximum grain diameter: | 10mm (3/8inch) |
| Maximum drive rating: | 7kgf/cm2 |
| Maximum caliber: | 100mm(4inch) |
| Maximum discharge-side pressure: | 6kgf/cm2 |
| Maximum head: | 50m(164ft) |
| Flow rate range: | 0.8-30m3/h(3.5-132US.GPM) |
Performance Data:
Model

Size

(")

Capactiy

(m3/h)

Head

(m)

Suction

Head (m)

Max

Grain Dia.

(mm)

Air
Pressure (Kgf/cm2)

QBY-10

3/8"

0~0.8

0~60

5

1

7

QBY-15

1/2"

0~1

5

1

QBY-25

1"

0~2.4

7

2.5

QBY-40

1-1/2"

0~8

7

4.5

QBY-50

2"

0~12

7

8

QBY-65

2-1/2"

0~16

7

8

QBY-80

3"

0~24

7

10

QBY-100

4"

0~30

7

10