For the manufacture of your zinc die casting parts requirements, Stick Industry offers the cost saving advantage. STK produces both large and small precision/zinc die cast components for a wide variety of market applications including lock hardware, Furniture parts, Machine and Equipment parts, Auto parts, computer components etc.
STK's advanced zinc die casting process offers a versatile production capability that is both dependable and cost effective. Intricate shapes with thin wall sections, smooth finish, high yield strength and impact resistance with high dimensional accuracy are all about STK's manufacturing abilities.
At STK, all zinc die casting tooling is designed and built in-house to meet both the customer's and STK's own exacting standards. The production processes for each project are orchestrated by using a variety of statistical process control techniques in order to carry out the recording and monitoring.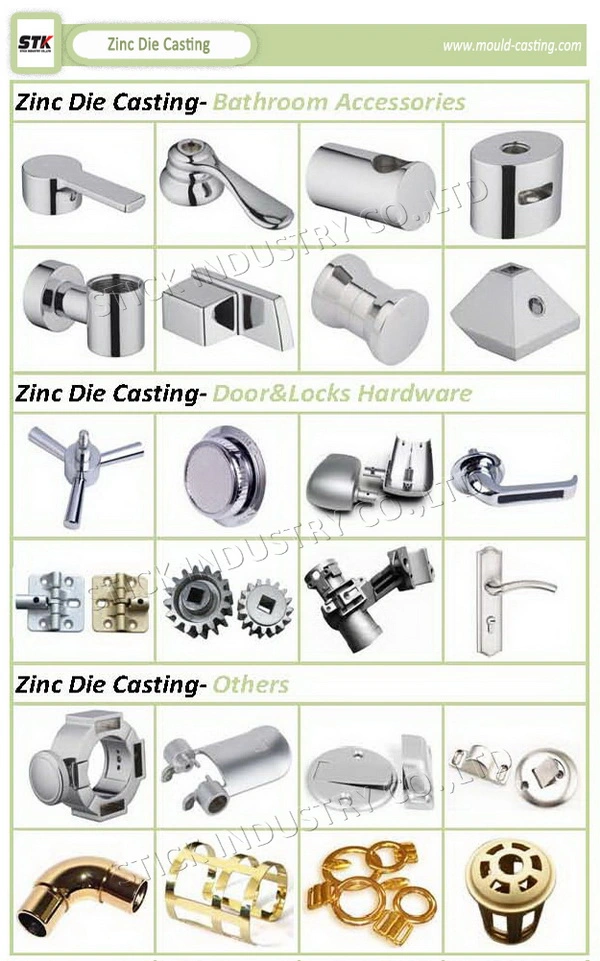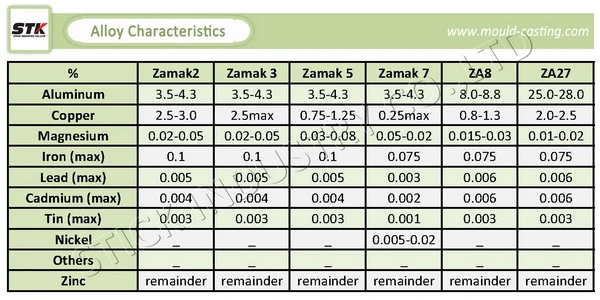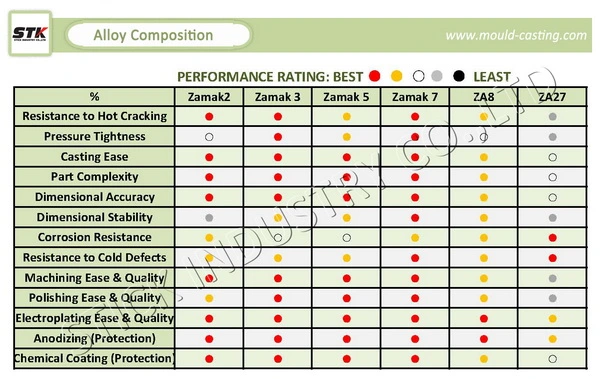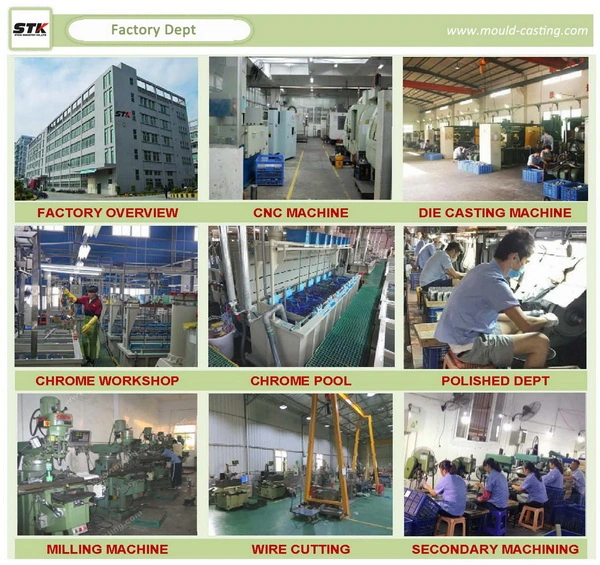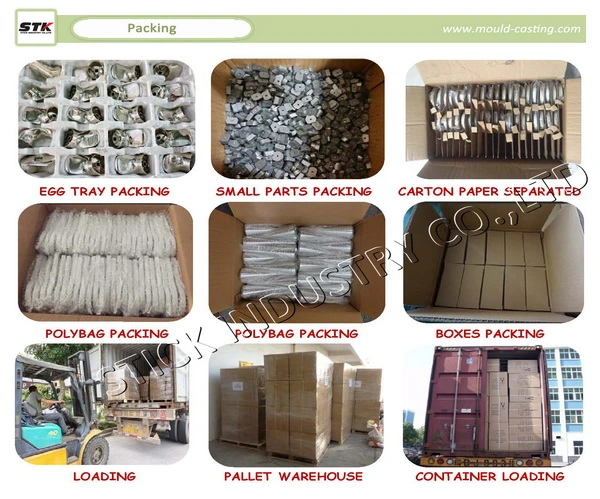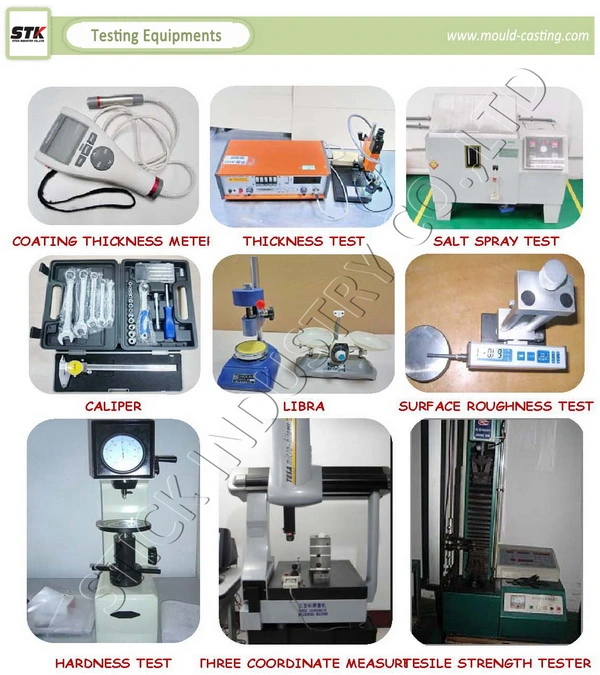 Specific Zinc Die Casting Capabilities
1. Automated equipment handles high volume casting jobs of up to 100, 000 pieces per week
2. Manual machines for low volume jobs of minimum quantity of 500 pieces per year.
3. Can cast from 0.02KGS to 5KGS
4. Single to multiple cavities
5.6 sets of hot chamber die casting machines range from 88Tons to 280Tons.
6. Most zinc casting alloys are offered such as Zamak2, Zamak3, Zamak5, Zamak7, ZA8, ZA27 etc.
7. Specializing in small, large, complex, precision components
State-of-the-Art Cast Finishing
The STK facility offers a complete in-house, independent machining facility with the latest CNC mills and lathes to provide fully machined castings. Our sanding and surface finishing capabilities include:
Shot blasting
Parting line removal
Chrome Plating
Nickle Plating
Zinc Plating
Powder coating
Painting
PVD
Item Name:
Zinc Die Cast Industrial Component
Product Description:
1) Material: Zamak 2, Zamak 3, Zamak 5, Zamak 7, Za8, Za27 etc.
2) Product weight: From 0.02kg to 5kgs
3) Machine Size: From 80tons to 280tons
4) Surface Finish: Bright/Matt Chrome plating, nickel plating, brushed nickle, satin nickle, golden plating, bronze plating, sandblasting, painting, powder coating, electrophoresis, PVD,
5)Process: Die Casting + Machining
6)Secondary Machining: CNC turning, milling, drilling, grinding, assembly to Packing
7)Product scope: Auto parts, motor shell, pump parts, machinery parts, electronic parts, medical parts, furniture accessory etc.
8)Applied software: Pro/E, Auto CAD 2000, solid work 2001, CAXA, UG, CAD, CAM
Company Profile:

With plentiful experience and skillful technique, Xiamen Stick Industry Co., Ltd produce the best quality zinc die casting and aluminum die casting as per our customer' s drawing or sample.
The picture shown is the customized product we make for our customer, for reference only. Any OEM service is welcomed.
Company advantage:

1. ISO 9001: 2000 certified
2. Owned die casting, polishing and plating workshops
3. Advanced equipment and excellent R& D Team
4. Highly skilled manufacturing process
5. A broad variety of ODM& OEM product range
6. Strict quality Control System
| | | |
| --- | --- | --- |
| EQUIPMENT LIST | CAPACITY | QTY |
| HOT CHAMBER DIE CASTING MACHINE | 88 TONS | 2 SETS |
| HOT CHAMBER DIE CASTING MACHINE | 160 TONS | 2 SETS |
| HOT CHAMBER DIE CASTING MACHINE | 200 TONS | 1 SET |
| HOT CHAMBER DIE CASTING MACHINE | 280 TONS | 1 SET |
| CNC LATHE MACHINE | | 10 SETS |
| MILLING MACHINE | | 8 SETS |
| DRILLING MACHINE | | 20 SETS |
| TAPPING MACHINE | | 10 SETS |
| VIBRATE POLISH MACHINE | | 3 SETS |
| SAND BLASTING MACHINE | | 1 SET |
| POLISHING MACHINE | | 30 SETS |
| CHROME PLATING LINE | NICKLE,CHROME(MATT/BRIGHT) | 3 LINES |